From an article in the St.Albert Gazette in August 2015
Residents feel safe raising their families in St. Albert but it's not just the city's low crime rating that fills them with that sense of confidence.


"The crime rates are one thing, but the neighbourhood or community feeling that you get when you walk around is what makes them feel safe," they said. "And with all of the events St. Albert does – it's a very community-minded place. A lot of people will go out of their way to say hi to other people, help other people or open a door for other people. That neighbourly feeling is what helps to create the feeling of safety."


Statistics Canada gave another reason to add to that confidence after it released its latest crime index numbers for the province.


Compared to 21 other medium-sized communities in Alberta, St. Albert has the lowest crime severity index score – measured at 38.87 for 2014, according to numbers released by Statistics Canada in July.


The crime severity index measures the severity of police-reported crime by taking into account the volume and seriousness of offences. It is adjusted to equal 100 for the base year in 2006, when the measurement was introduced.


"It's the first time we have been the lowest number. In that chart I don't think there's another time in the past where we've moved into the lead," said Mayor Nolan Crouse.


"I'm really happy with that, because every metric that you look at you hope to be improving and that the time and effort you put in toward creating a safer community pays off with low crime."


In the past, Chestermere (40.85) and Beaumont (47.74) – both with populations ranging from 16,000 to 18,500 – have scored lower than the 63,000-strong community of St. Albert.


St. Albert's crime severity rate has been steadily declining since 2010. In 2014, it dropped by 15.08 per cent, from 45.77 in 2013.


The city's crime rate has also been steadily declining, with 3,235 total offences in 2014 versus 3,765 in 2013. In 2010 there were 5,362 crimes reported to police.


This is about one-fifth the number of incidents compared to neighbouring Edmonton.


Despite the historically low numbers, former St. Albert RCMP detachment inspector Kevin Murray remains cautiously optimistic.


"You have to be careful you don't tout that too much because year-to-year you can see fluctuations in criminal activity in and around your area and we have to continue to be vigilant," he said.


Both the mayor and Murray attribute the decline to ongoing community engagement efforts by the RCMP.


Through preventative policing measures such as proactive patrols using bikes and golf carts and the presence of liaison officers in schools, the detachment has stepped up its visibility in the community over the years, said Murray.


"We have worked hard to establish more visibility in the early morning hours, which is when traditionally some of the more serious activity takes place," Murray said. "We encourage members to be out and complete street checks on people who are found in areas that normally wouldn't see much activity at those early morning hours. And we continue to encourage the community to be aware of what's going on around them,"


"Having a very engaged community is a huge step towards continuing to reduce the criminal activity in around our community."


Block parties are also a great line of defence, said the mayor. Since 2010, a significant effort has been put toward neighbourhood and community development as a means of deterring crime.


"The block-party program, as odd as that might sound, is driven by the need to improve community safety," Crouse said. "If people know each other and care for each other, then they're look out for each other."


June 17, 2014
St. Albert RCMP Attend Block Parties
On Saturday, June 14, 2014, RCMP attended 3 Block Parties and met many positive St. Albert residents of all ages. At the Deslauriers Crescent/ Deville Place Block Party, 82 residents attended, while the Block Parties in Heritage Lakes and Lacombe Park were smaller in size. Great conversations were held at all 3 locations while burgers and hot dogs were shared along with delicious potluck dishes.
St. Albert Family and Community Support Services (FCSS), in partnership with St. Albert Neighbourhood Watch and the St. Albert RCMP, encourage residents to host Block Parties as a Crime Prevention initiative for the city. "As people get to know their neighbours, they naturally start to watch out for each other. Knowing who belongs in your neighbourhood and who does not, helps residents know when to report suspicious activity to the RCMP.", says Cpl. Laurel Kading of the St. Albert RCMP.
While the RCMP mingle with city residents at the Block Parties, the officers can inform them of crime trends that are occurring and prevention tips to help stop the problem. At this weekend's parties, thefts from motor vehicles were discussed and everyone was encouraged to remove valuables from parked vehicles and to lock them up.
St. Albert Neighbourhood Watch and Citizen Patrol sponsor the Block Parties in St. Albert by providing free hot dogs and hamburgers for any Block Parties registered with St. Albert FCSS. As well, Neighbourhood Watch provide lightweight barriers to block the street when approved. To host a Block Party, you only have to choose the area of your neighbourhood that you want to host, pick a date and contact FCSS or register through the City of St. Albert web page. The City would like to reach a goal of 100 Block Parties the 2014 summer, so get your neighbours together and be part of this St. Albert Crime Prevention program.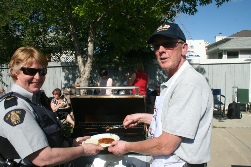 ICpl. Kading and a local residents at the Deslauriers Crescent Block Party
Cpl. Laurel KADING, M.O.M.
Crime Prevention/Victim Services, Community Policing